Wednesday, 23 September 2020 13:45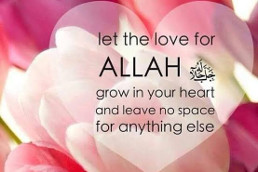 Hazrat Shaikh Moulana Muhammad Zakariyya (rahmatullahi 'alaih) once mentioned the following:
When the true love for any action settles deeply and firmly into the heart, then it becomes easy for one to carry out that action. We have heard that there are some people who remain standing in the cinema from the night until the morning. Yet, if we have to say that a certain pious person performed Fajr Salaah with the wudhu of Esha Salaah, as he remained engaged in performing Tahajjud Salaah throughout the night, then people will express astonishment and amazement. The main thing that motivates a person and makes it easy for him to carry out an action is true love and enthusiasm for that action (therefore, one should make an effort to create the true love and enthusiasm in his heart for every aspect of Deen).
(Suhbat Baa Awliyaa pg. 132)
Wednesday, 17 June 2020 15:36
On the 10th of Shawwaal 1441 (3rd June 2020), when the news of the tragic demise of Hazrat Moulana Haroon Abasoomar Saheb (rahmatullahi 'alaih) spread throughout the country and the world, it seemed as if a huge floodlight was suddenly switched off and countless people were left in grief. Like other great 'Ulama and Mashaayikh who have passed on, Hazrat Moulana's (rahmatullahi 'alaihi) demise also has left a void in the world in general, and for us in particular at our Madrasah (Ta'leemuddeen) , that can never be filled. May Allah Ta'ala make his complete maghfirat, elevate his stages in the Aakhirat and bless his family, students, friends and associates with sabr-e-jameel.
Some concise and comprehensive biographies about Hazrat Moulana's (rahmatullahi 'alaih) life and exemplary qualities have already been published, and many more will surely follow. Several asaatizah of the Madrasah penned short articles giving a glimpse of some aspects of his life and excellent qualities, especially a peek of the spectacle of the lessons of Bukhaari Shareef which Hazrat Moulana (rahmatullahi 'alaih) taught at the Madrasah for 25 years. Below is a condensed version of the various articles.
Read more: Shaikhul Hadeeth, Hazrat Moulana Haroon Abasoomar Saheb (rahmatullahi 'alaih)
Wednesday, 01 April 2020 09:23
Daily we recite or hear the proclamation of the Greatness and Power of Allah Ta'ala more than a hundred times. In the azaan, salaah and at other times, we keep repeating ALLAHU AKBAR... ALLAHU AKBAR ... ALLAHU AKBAR. This is a constant reminder throughout the day that ALLAH TA'ALA IS THE GREATEST. He Alone controls everything and has total qudrat and power over every minute particle.
Presently, Allah Ta'ala's qudrat (absolute power and control) is being manifested through a microscopic virus which has brought most of the world to almost a standstill. Subhaanallah! Pure is that Being to Whom belongs the entire universe. He Alone is the creator of every living being and every inanimate object. He causes the sun to rise and the moon to shine. Glory be to Allah Ta'ala who gives life and death and Who will resurrect everyone on the Day of Judgement.
Wednesday, 01 April 2020 09:16
Q: The Covid-19 pandemic has gripped the world. Please advise as to what we should do in these trying times.
A: AIndeed these are very trying times. In trying times, one must not remain casual and carefree. A carefree and heedless attitude in such situations is in fact dangerous, as it indicates indifference to Allah Ta'ala. While it is necessary to take the necessary precautions within the limits of sharee'ah, that alone is not going to take away the virus. There is much more to do. Hereunder are some aspects to undertake in order to treat the root of the issue:
Shed Tears before Allah Ta'ala
Repent… repent… and sincerely repent. Shun all sin. Repeatedly make deep, heartfelt taubah and istighfaar, and shed tears of remorse and regret. Allah Ta'ala has declared in the Quraan Majeed: "Indeed Allah loves those who constantly repent...". (Surah Baqarah, v.222) Rasululah (sallallahu 'alaihi wasallam) has said: "The one who cries out of the fear of Allah Ta'ala will not enter the Fire". (Sunan Tirmizi #1633) If all of us repent sincerely, the rahmah and blessings of Allah Ta'ala will descend upon everyone and the hardships will insha-Allah be uplifted.